Thank you Gran Canaria 2022
We recently had the opportunity to take a two week vacation in Playa del Ingles, a popular tourist destination for the gay community on the island of Gran Canaria. We try to make a regular getaway durin november to minimise the emotional damage of living in a country where it's too dark during winter.
As soon as you arrive at the airport and get the first feeling of sunshine you can feel your shoulders relaxing again! Love the feeling of sunshine!
We have been to the island a few times before so we never did more sightseeing than visiting the scandi-collony in San Augustin and a few rounds to the gay beach and the dunes. The rest of the days where spent by the pools relaxing with the fact that clothing is optional at the hotel so you don't get any tan-lines ;) 
Hotel
This time we booked a stay at Aqua Beach Bungalows because of the perfect location next to Yumbo center… and the fact they have 2 warm pools and plenty of sunbeds! We stayed in a beautiful bungalow with a small terrace with space to have your breakfast in the sun! The staff was super nice and the bar by the pool always ready to keep you hydrated!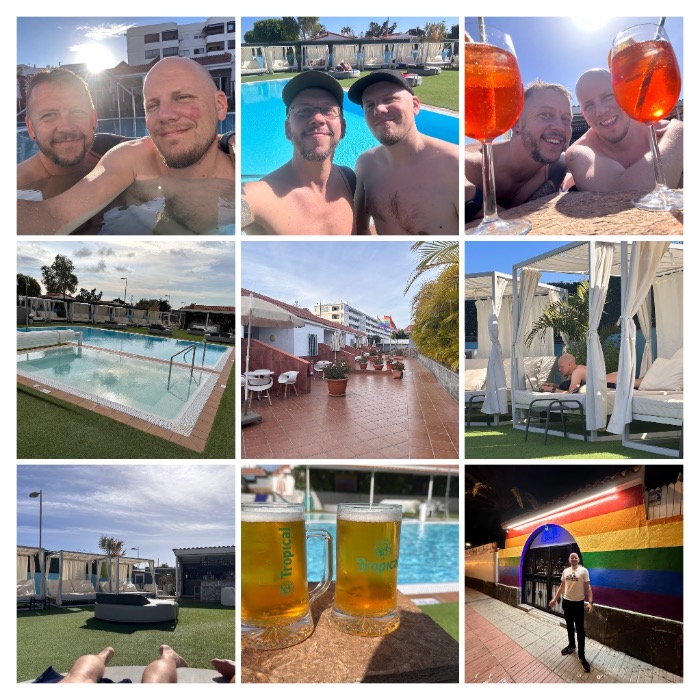 The nights where always busy. There are sooooo many bars and restaurants to experience and it's so great to be in a gay-dominated environment!
Favourite bars
Some of our favourite bars this time around was: 
Adonis (for perfect location and the perfect desert cocktail!), 

Zaza (for having the best Moscow Mule) and 

Toms (for the great service and nice people).
Best dinners
Some of the best dinners we had at 
Wapa Tapa (super nice gay-run restaurant with great tapas and sangria), 

the Indian restaurant KURRY KINGDOM (Perfectly seasoned food and great naan bread), and 

Asia house (for the great tasting food that never ends)!
Overall, our vacation in Playa del Ingles was a fantastic experience. The combination of great weather, beautiful beaches, and lively nightlife made for the perfect getaway. See you next year!